Welcome to my Ecommerce Millionaire Mastery review!
It's likely that you have come across Ecommerce Millionaire Mastery through an email list, on social media or got it recommended by a friend or family member.
First and foremost I must commend you for actually doing a bit of extra research before committing to purchasing or joining Ecommerce Millionaire Mastery. For all you could have known, Ecommerce Millionaire Mastery may very well be a scam and rob you of your money so this review could help you find anything peculiar about it.
To be totally transparent with you I haven't used Ecommerce Millionaire Mastery so I can assure you that I will not attempt to sell you on it unless of course it's worth investing in.
What I will aim to do is provide you with an unbiased 3rd party review of Ecommerce Millionaire Mastery that will hopefully help you to make the correct decision in the end.
---
PRODUCT NAME: Ecommerce Millionaire MASTERY (EMM)
OWNER/S: Kevin Zhang
TYPE OF PRODUCT: Dropshipping Course
PRICE: $1997 or 5 x $499
SUMMARY: No, Ecommerce Millionaire Mastery is not a scam, it is a legitimate dropshipping that's definitely worth looking into.
The only cons that some may argue that it has is the somewhat thin information on specific training areas, primarily the lack of teachings on finding got products and of course its hefty price tag but, the course contents and of course Kevin's credibility in this industry does arguably make EMM a fair bit more appealing than other dropshipping courses.
FINAL RATING: 3.5/5
RECOMMENDED: sure if you can deal with the price

---
WHAT IS ECOMMERCE MILLIONAIRE MASTERY?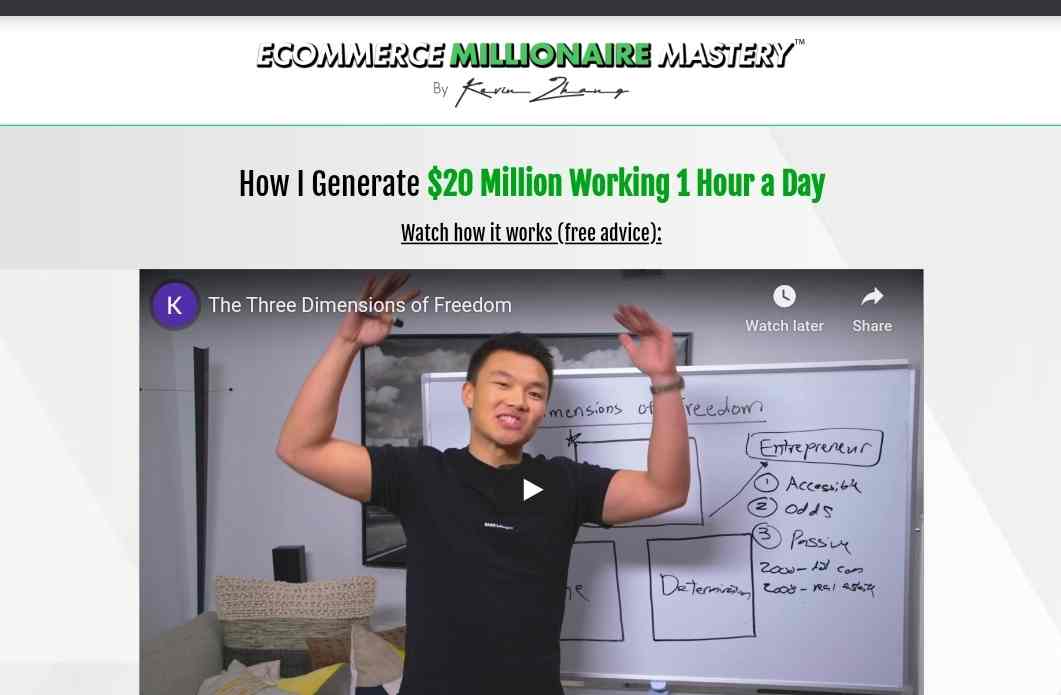 Ecommerce Millionaire Mastery is a dropshipping course created by Kevin Zhang, someone who seems to be a very successful entrepreneur within this space having made millions over his career and even been featured within the likes of Forbes, yahoo finance and Affiliate WorldAsia.
In fact the reason he was featured within those publications was due to him generating over $20 million in sales whilst dropshipping. Of course the profit margins are different but, I'm still pretty sure he has made a million if not multiple millions as a result of his endeavours.
I have to note that I couldn't find any of his stores but, he does have ecommerce marketing agency and has worked with eCommerce Incubator, Seer eCommerce and Vanderbilt Consulting Academy so, there is chance that some of these sales were generated from his client's stores.
This $20 million sales figure which in turn was also documented by legitimate entities like Forbes definitely separates Kevin from your typical dropshipping gurus, which is a major plus.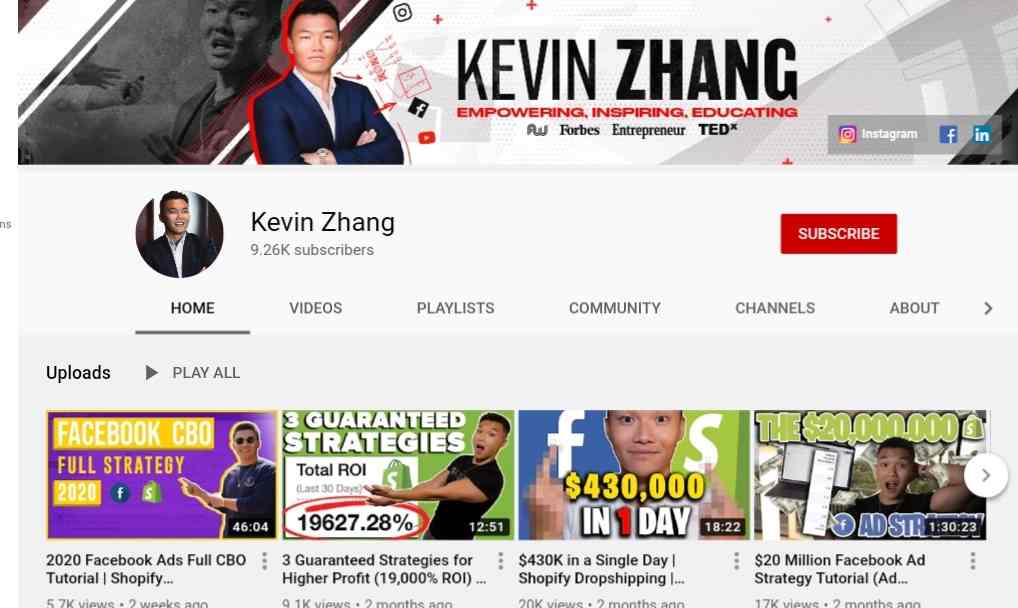 He also has a youtube channel with over 9k subs at the writing of this review where he covers, quite extensively, some of his ad strategies and other elements regarding dropshipping.
In short his experience within the field does justify the creation of EMM but, whether or not the course is worth the hype and money, that's something I hope to answer for you throughout the rest of this review.
==>Click Here To Get Access To My FREE Make Money Online Guide!<==
---
HOW DOES ECOMMERCE MILLIONAIRE MASTERY WORK?
EMM can be found on teachable. This means that it should be accessible to view on all platforms pretty seamlessly. As for the course contents, it'll be in video form where the content spans well over 200 lessons split between 15 different modules.
EMM is most definitely a very in depth course as it will take around 30 hours to get through everything therefore, at least the amount of content provided is great even if it is a little overwhelming.
Module 1 – Introduction
The first module is an intro on the contents of the course, how to get in the right mindset for the dropshipping gig, how to get into dropshipping with minimal upfront costs and even a little section covering other business models you could look into such as private label products (this isn't covered in the course though)
Module 2 – Branded Niche Dropshipping
This section talks about what type of store you should create in shopify whether it be a single item store or a general item store, how to create you store, the different third party retailers you can use to dropship form whether it be the commonly used Aliexpress or the more lesser known retailers in salehoo.
It'll go over where to do find products, however this section is quite lacking and a little short.
Lastly Kevin goes over what the path from being just a dropshipping store to becoming a recognisable brand should look like.
Moduel 3 – Consumer Psychology
This section is fairly short having only 4 videos but, it covers the fairly important topic of understanding what It takes to convert consumers.
It discusses what Kevin refers to as the 4 pillars of consumer psychology along with the 3 different types of buyers.
Modules 4 & 5 – Shopify Website Design
Both of these sections basically go over the process of creating a website on Shopify, how to transfer images to your store from Aliexpress, how to add badges to make the site look more credible, how to use photoshop to create banners and logos, information on the use of specific themes, how to set up your upsell funnels and tools to help with conversions.
Moduels 6, 7,8 and 9 – Facebook Ads
All of these modules cover Kevin's Facebook ads strategies where he initially starts off by teaching you how to set up your ads account to later moving onto showing you the process of  creating effective ads, how to write effective copy and examples of successful ads he has created in the past.
He will also teach you his advanced strategies such as using retargeting campaigns, his campaign optimisation strategies, how to create effective carasoul ads, information regarding his concentrated, king broad, fools gold, crowd out, squeeze, broad manual and Volatility methods as well a few videos on how to utilise the Facebook ads manager feature.
The Facebook ads side of things is the area that Kevin is most knowledgeable about which is why it is covered so extensively within EMM. This is also the section that sperates Kevin's course from other dropshipping courses as it is because of his skill with Facebook ads platform that he ultimately allowed him to generate over $20 million in sales.
Module 10 – Effective Sales Strategies
Module 10 talks about what you'll need to do to increase your sales by using bundles, subscription based services when necessary and just leveraging your metrics to form effective sales models.
Module 11 – High ROI Email & SMS Marketing
This section covers what you should do to when collecting email addresses and phones numbers from your buyers and how to set up automated messages to elevate your return on investments.
Module 12 – Multivariate Testing, A/B & Heat Maps
Here you'll be taught the importance of using A/B testing to figure out what works best for conversions along with heat maps used in your website to see what your customers mostly interact along with Multivariate testing to see what will happen when combining different elements within the website together.
Module 13 – Customer Support
Module 13 goes over the systems that Kevin has put into place in order to develop excellent customer service for your customers.
He goes over what he believes you should do to deal with customer dispute, whether it be in the form of chargebacks, refunds etc.
You'll also be taught how to draft the right policies that are both ethical and legal along with a bunch of scripts you can use to deal with annoyed customers.
Lastly, it also cover how to use a ticketing system and how to get your business number.
Module 14 – Keeping Business Alive
This section covers what you should do to keep your business cash flow positive as well as discusses how to stay within the Facebook ads guidelines, how to to stop copy cat dropshippers from stealing your products.
It also goes over how not to get caught out by the BBB or watchdog groups.
In short module 14 is all about maintaining and sustaining your business effectively.
Module 15 – Building Advanced Infrastructure
This final section just goes over the automation side of things by using fiverr or upwork freelancers to minimise your workload, how to negotiate with aliexpress suppliers using a chinese script to enhance your margins and a final area discussing the diversification of the products you sell.
Along with the main course, EMM members will also gain access to a private Facebook group and 52 live calls every year.

---
HOW MUCH DOES ECOMMERCE MILLIONAIRE MASTERY COST?
Due to the Kevin's success within this dropshipping field and the credibility he's displayed having been featured on multiple well known financial publication, EMM's pricing is quite premium too as it'll set you back $1997.
There's also an option to split the payment into 5 x $499 payments if you're unable to pay the $1997 upfront however, taking this route is obviously far more expensive overall.
Discover How I Made $173 Through A Single Sale Using This Online Business Model, Click Here To Read My Full Money Making Guide On How I Did It!
---
THE NOT SO GOOD THINGS
The Course Is Really Expensive
The only major negative I have with EMM is that it's a very expensive dropshipping course, especially in comparison to the average course in this niche being between $500 – $1k.
If you can get past the hefty price tag though, I really can't say that you'd go wrong with Kevin's program.

---
THE GOOD THINGS
Kevin Is Quite The Credible Individual
Considering Kevin has put up such insane sales figures and even be featured on the likes of Forbes and other publications (as I've obviously mentioned a few times in this review), he is definitely among the more credible "gurus" on this topic and worth learning from.
The Course Is Very Indepth
The amount of content on this course is very in depth, especially regarding the advertising side of things. Of course its product research training is a little lacking but if you can get over that hurdle and find a solid product to dropship, a lot of the training within will be very useful and could very well help you succeed.
==>Click Here To Get Access To My FREE Make Money Online Guide!<==
---
IS ECOMMERCE MILLIONAIRE MASTERY A SCAM?
No, Ecommerce Millionaire Mastery is not a scam, it is a legitimate dropshipping that's definitely worth looking into.
The only cons that some may argue that it has is the somewhat thin information on specific training areas, primarily the lack of teachings on finding got products and of course its hefty price tag but, the course contents and of course Kevin's credibility in this industry does arguably make EMM a fair bit more appealing than other dropshipping courses.
---
MY PERSONAL RECOMMENDATION
I'd suggest you check out my personal recommendation if you still want to make money online, though I'll warn you right now, it isn't something through which money will come easy.
It is nonetheless a great business model for the online space in my opinion
So what is this method that I'm talking about?
This method I'm talking about is affiliate marketing.
The reasons as to why I recommend it is because:
– expectations toward success are a lot more grounded
– it is a legitimate method that has been working consistently and continues to grow as more businesses want individuals to promote products
– it is a very scalable business
– and because it is free to start up, no unnecessarily large start up funds needed.
The service I recommend is Wealthy Affiliate. It's free to sign up to and will get you set up and ready to start your affiliate marketing journey within minutes, as it did for me when I begun my journey.

If you have any questions that you would like to ask me regarding EMM, feel free to do so in the comments section below and I will get back to you as soon as I can. If you have your own thoughts about EMM and would like to talk about it, again feel free to do so in the comments below!
Thanks
Amhil